Hydrawise controllers are capable of operating lighting transformers equipped with the PXSYNC interface box. Commonly used transformers with the PXSYNC are the PX or EX models. We also offer a DX Transformer that can be controlled from an irrigation controller via the 24-volt EXTERNAL connection built inside the controller.
Connect wires from the first PXSYNC or external ports inside the DX box to a station output number (and the Common) on the Hydrawise controller. See the wiring illustration example below:
NOTE: If the controller is using a Pump or Master Valve, please reference the chart below for important information.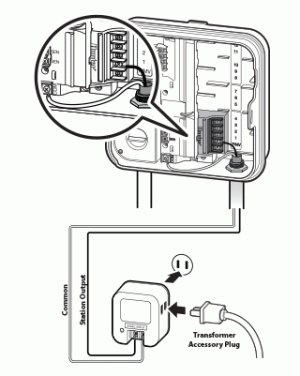 | | | |
| --- | --- | --- |
| Controller | P/MV Terminal | Output |
| HC | If a pump or master valve is in use, the lighting transformer should not be used in conjunction with the irrigation controller. | Single station output will operate one at a time. Irrigation must not be programmed for the duration of the lighting schedule. |
| PRO-HC | If a pump or master valve is in use, the lighting transformer should not be used in conjunction with the irrigation controller. | Single station output will operate at a time. Irrigation must not be programmed for the duration of the lighting schedule. |
| HPC | If using PUMP or master valve, this station output must be set to OFF in the programming. | Single station output will operate at a time. Irrigation must not be programmed for the duration of the lighting schedule. |
| HCC | If using PUMP or master valve, this station output must be set to OFF in the programming. | Two station outputs will operate at a time. Any two programs will run simultaneously (lighting program and irrigation program). |