This operates the same way as the Hunter Solar Sync by adjusting the run time per zone. It uses daily ET from your selected weather stations instead of on-site ET so it does not require on-site Solar Sync sensor installation. If no weather station ET is available, then it will fall back to using forecast ET and historical ET. The virtual Solar Sync makes its adjustments based on the rolling average of the last three days of data.
Hunter's Solar Sync Region and Water Adjustment settings
Region
Determined automatically based on your controller's location from the weather station selected.
Water Adjustment
Use the Advanced Tab when editing a zone to adjust the zone's watering. See step 4 below:
Run Times
Set station run times (1 min to 1439 min) for peak summer watering. For assistance on establishing correct run times for your system, see run time calculator.
Please view the steps and screenshots to access this feature:
Click on ZONES AND SCHEDULES from the home dashboard, then select ZONES. Scroll down to the first zone you choose to edit. Click on the

icon.
Choose VIRTUAL SOLAR SYNC as the watering type and click NEXT.
Choose the watering length, watering frequency, and weather adjustments, and click NEXT.
Choose ENABLE OR DISABLE the cycle soak feature.
Finally, the Advance Section will allow you to select a WATERING ADJUSTMENT as a %.
STEP 1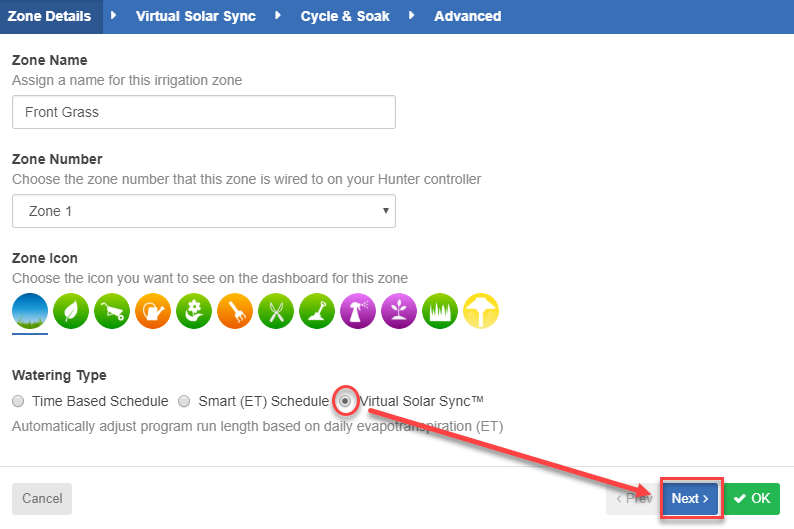 STEP 2
STEP 3
STEP 4

After Virtual Solar Sync has been installed and programmed, it is recommended to allow the system to run for a few days at the initial setting. Because of the variety in site conditions, the initial setting may require adjustment in order to achieve the desired performance.
Virtual Solar Sync and Pre-Configured Watering Schedule Note:
In order to use Virtual Solar Sync with Pre-Configured Schedule, you must first have a Pre-Configured Schedule assigned in the account. The drop down here will not display any schedule without completing the necessary steps found in the article here or simply click CREATE NEW as shown in the section below.
Pre-configured Watering Schedule Drop Down