Add User
Both contractors and homeowners can add additional users to an account. However, as a home user, you must have an Enthusiast Plan to add additional users.
To add a user, please view the steps and screenshots to access this feature:
Click "Users" under the account settings tab on the upper right hand side.
Next, scroll down to "My Account Users" and click "Add User."
Fill in the required details and click "Ok." This will send a validation email to the user to activate the account. The user must create a password upon visiting the Dashboard for the first time.
Step 1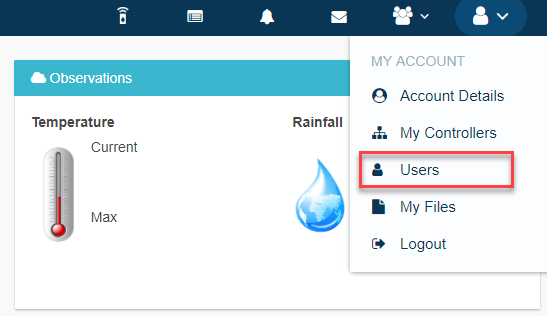 Step 2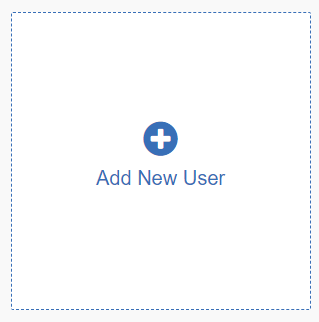 Step 3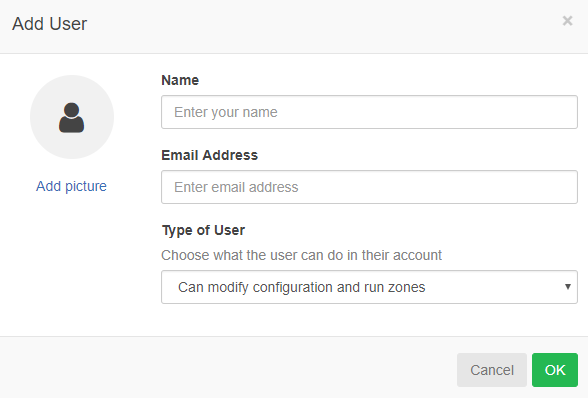 User Settings
Add Picture
A image can be uploaded from you operating system.
User Name
The name of the new user
Email Address
The email address that the new user will use to log in to the account
Type of User

If you want the user to have full control over the controller, select "Can modify configuration and run zones."
If you don't want the user to have control over configuration, select "Can view configuration, manually run zones."
IMPORTANT
You cannot add a user who already has an existing Hydrawise account. If the user has an account, email us at support@hydrawise.com. We will delete the account from our system and you can then add the user accordingly.
Files
Towards the bottom of the accounts detail page, you can upload files which are useful in managing your garden. For example, you might like to add a picture which shows the layout of your garden and zones. Uploading of files is supported for Enthusiast plan customers.