Hydrawise accounts with a Contractor Plan have a dedicated portal for creating and managing customers with controllers.
To access your portal, go to Settings -> My Customers. This option is not available unless you have a Contractor Plan.
The Contractor Portal has four sections:
Dashboard
The Dashboard shows you key information about your customers and their controllers.
You can see all events for your customers' controllers, including recent alerts on issues such as high or low currents, water flow problems, weather station problems, or controllers going offline. To see all events, go to the Customer Events section.
You can also see how many customers you have, including those who have not yet given you access to configure their accounts (these show as "pending"). There are also statistics for the controllers you manage and status indicators that show whether they're online or offline.
Dashboard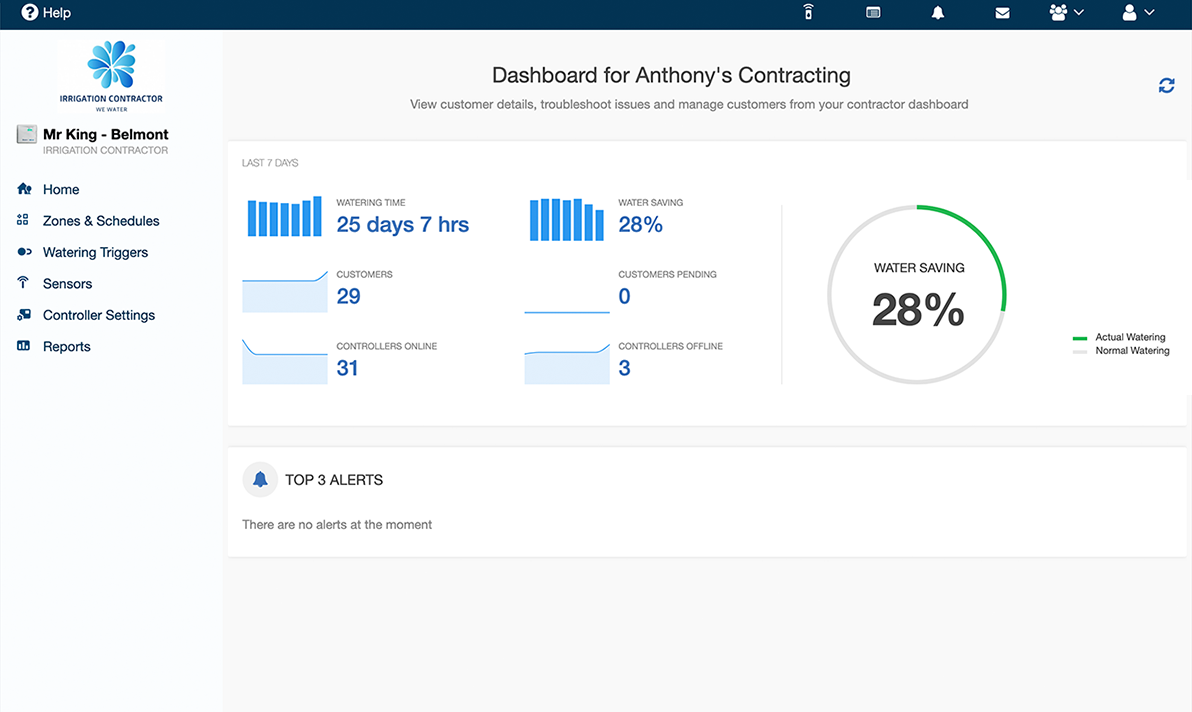 Customers and Controllers
This section allows you to configure all your customers and their controllers. You can also see your own controllers.
When you first enter the screen, you'll see a list of your customers. From here, you can also Add a Customer. Customers are color coded by the type of plan they have:
| | |
| --- | --- |
| Customer Icon | Plan |
| | Contractor |
| | Enthusiast |
| | Contractor Starter |
| | Homeowner |
There's also a map that shows all the controllers you manage (unless you're using a small screen). Controllers on the map are color-coded by their status:
Green: Online
Red: Offline
Yellow: This controller is not yet linked to a physical device. You can configure the controller and attach a serial number.
Click on a controller on the map to see status information.
You can use the search box to find your customers by name, email address, controller status, or serial number. Clear the search box if you want to see all your customers.
To manage a customer, either click on their name or use the menu next to their name to show their details. You can also use the menu to remove a customer from your account. Once you're looking at a specific customer, you can configure plans, controllers, and users.
Customers and Controllers
Customer Events
This section shows all events for your customers' controllers, with the most recent events at the top. Events can be related to errors, warnings, or information. You can use the buttons at the top of the section to filter the types of events you want to see.
Click Acknowledge next to a specific event if you no longer wish to see it. You can also click Acknowledge All Events.
You can also change the number of events shown on the page, and search for events by:
Customer name
Controller name
Date
Event information keywords (e.g., "flow" or "usage")
Event severity
Customer Events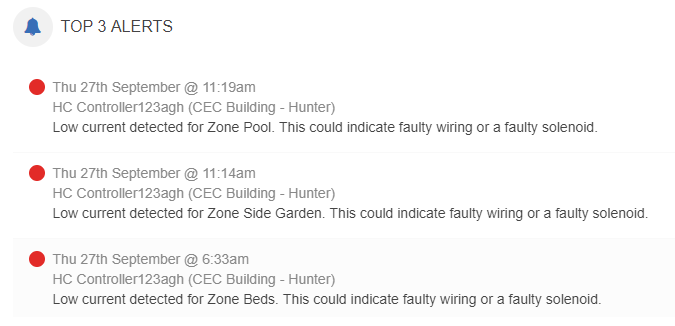 Customer Wide Settings
Common settings that you wish to apply to multiple customers should be configured here. If you change a setting here it will automatically change for all of your relevant customers.
In this section, you can set the following settings globally for your customers:
Global alerts
Pre-configured Watering Schedules
Program Start Times
Water Triggers
For more information of each of these global settings, please refer to this support section.
Customer Wide Settings