You can run an irrigation zone on demand from the Hydrawise unit, from your web browser, or from your iPhone/Android app.
Running a zone manually from your web browser or app
From the web or app Dashboard, click or touch the zone icon you wish to run and click the Run

button. Select the zone's run time and click OK.
The zone will start running within a few seconds.
Running all zones manually
You can also run all zones in sequence by clicking on the gear icon as shown below.
The zones can be run for a specified length of time or can run for their normal programmed time.
TIP: 
To stop a zone that is currently running, click the Stop

button on your Dashboard.
Running a zone manually from the controller
From the Home screen, navigate to the Zone Summary screen by pressing Zones.

The Zone Summary screen shows the status of six zones at a time. To view the next or previous group of zones, use the Next and Previous buttons. The current range of zones that you are viewing is indicated at the top of the screen.
From the Zone Summary screen, touch the zone you wish to view.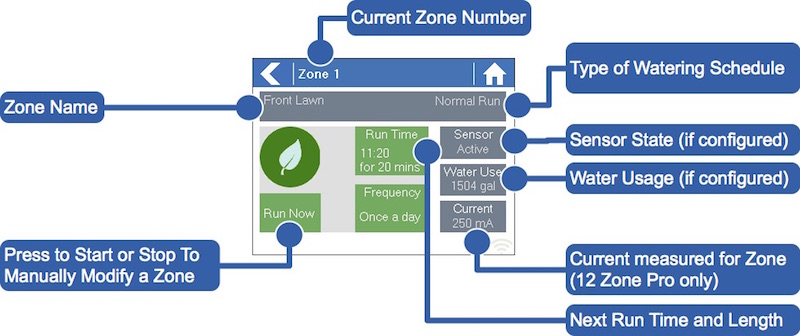 From the Zone Status screen, you can manually start a zone using the Run Now button. When started, the zone will run for the zone's default configured run length. This can be overridden by clicking on Run Time prior to manually starting the zone.
When a zone is running, the Run Now button will change to Stop. This allows you to stop a running zone.