When multiple controllers and sensors are within close proximity of one another, users should change the radio channels to prevent cross-talk between the transmitters and receivers. There are eight dip switch positions within both the transmitter and receiver, labeled as 1–8. The factory default setting for both the transmitter and receiver has dip switch position 1 set to ON, and all other dip switches set to OFF.
The 8 dipswitches are used to change the channel within the 900 MHz range used in the WHCFLOW radio. The switch can be at any setting but the receiver and transmitter would need to match (e.g; receiver 2-ON and transmitter 2-ON).
To change the channel, simply change the dip switch positions. Example: Using a flathead screwdriver, flip dip switch position 1 to OFF, and flip switch position 2 to ON (do this for both the transmitter and receiver).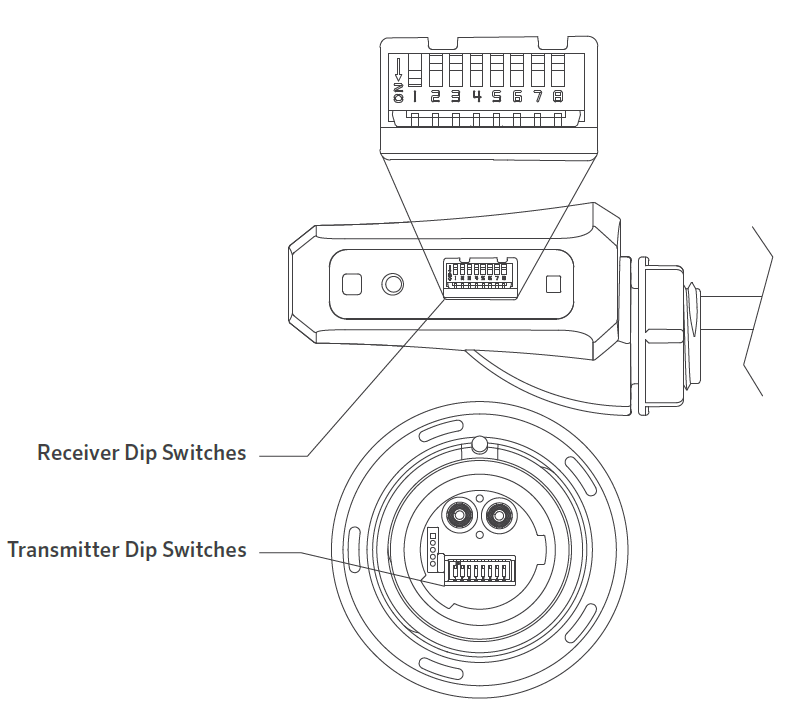 | | |
| --- | --- |
| | |
| Transmitter Dip Switch Setting (ON) | Receiver Dip Switch Setting (ON) |
| | |